MReader is designed to be an aid to schools wishing to implement an Extensive Reading program. It allows teachers (and students) to verify that they have read and understood their reading. This is done via a simple 10-item quiz with the items drawn from a larger item bank of 20-30 items so that each student receives a different set of items. Students who pass a quiz receive a cover of their book on their own home page on the site.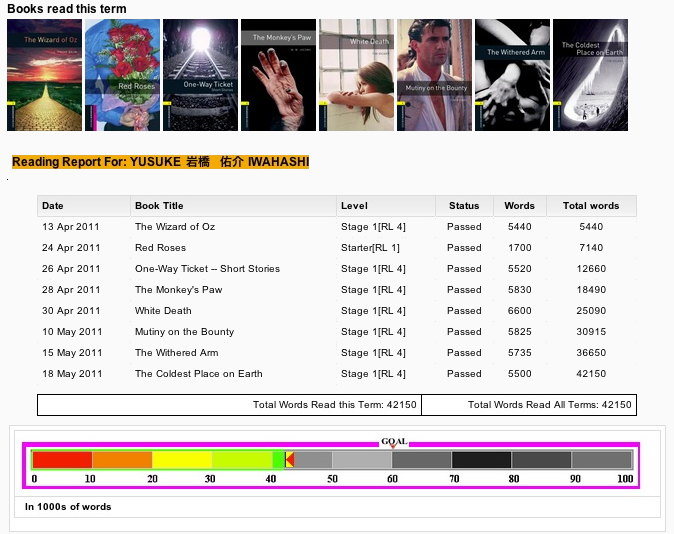 The program allows teachers to control how frequently students can take quizzes and what level of book difficulty they may take a quiz on. There are over 8000 quizzes available, comprising virtually all popular graded reader series as well as "youth literature" -- books used with native-speaking children and young-adults. See "What Teachers say" for further information.
If you would like to consider using MReader, please contact Thomas Robb at <admin@mreader.org>, preferably from your school email account, if you have one. We need to verify that you are really a teacher, and not a student posing as one.
Please mention:
・ The location of your school and its name,
・ The approximate number of students who would be (eventually) using the system,
・ Your school's URL (if there is one), and
・ The approximate number of graded readers or other easy readers that you have available.
MReader can be used free of charge by any legitimate educational institution for at least the first two years. Continued usage may subject to a support fee if the school becomes a "heavy user." See the page on Support Fees for detailed information on the usage levels that attract a support fee as well as the conditions for exemption. Voluntary donations from satisfied users, however, are appreciated and gratefully acknowledged.
Acknowledgements
This site was developed with research funds from Kyoto Sangyo University and the Japanese Ministry of Education to which we extend our sincerest appreciation. The Higher Colleges of Technology system (UAE) has also generously provided funding and programming expertise for the implementation of Arabic and other languages with MReader. Without the assistance of publishers and schools who can pay for special support, this site could not be maintained or further developed.

Thanks also go to those instructors who have created the quizzes on the MReader system. Particular thanks to Peg Orleans, our #1 quiz contributor (over 2000!), and Barry Keith who has created more than 500 quizzes. All quiz contributors are acknowledged on our "MReader Updates" Google doc that lists every quiz that has been added to the system.
If your school uses the Moodle course management system, you might consider using the "Reader" plugin that utilizes the same quizzes. See https://moodle.org/plugins/view.php?plugin=mod_reader for further details. It is also possible to create a seamless log-in from within a Moodle course to MReader. See this PDF for further information.
Useful links
A 9-minute video 'tour' of the systemhttp://tinyurl.com/mreadertour
Here are some academic publications that mention various aspects of MReader.
MReader access statistics from Google Analytics.
This site is hosted by the Extensive Reading Foundation.