USA

Thanks for all you do. I can tell you that my adult ESL students at Big Bend Community College LOVE using Mreader. Their motivation to read has gone sky-high.

Jeff Nelson, Big Bend Community College, Moses Lake, Washington.

---
Oman

My institution, Middle East College– Oman, has been using M-reader for the past two semesters (starting from Fall 2017). I would like to thank you for all the support you have extended to us in this regard. I can simply say that M-reader has been a great success. Moreover, we organized our 1st TESOL Conference on 29 March, 2018 where two papers were presented on M-reader.

Dr.Tareq Monther Al Damen
Head of Department
Centre for Foundation Studies
Middle East College, Oman

---
The results... clearly show that students are to a great extent in favour of M-reader in most of the aspects including the books, tests, improvement in different skills and motivation. M-reader is seemingly a great way of implementing extensive reading because it concords with most of the pre-requisites for a successful ER program.

From the responses of 744 students in the Foundations course: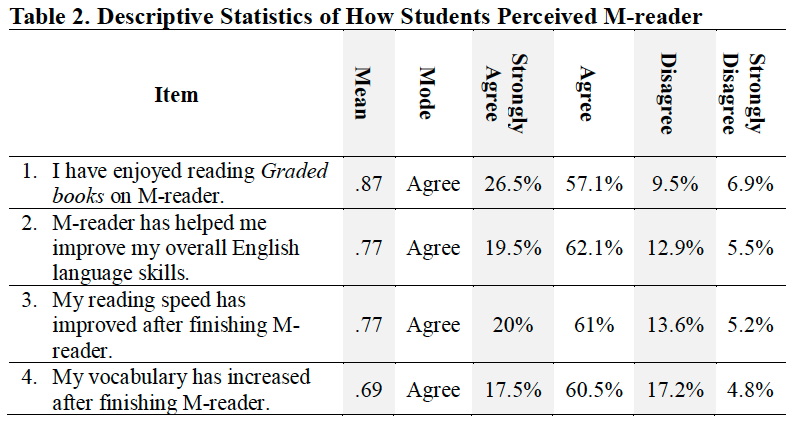 Abouzar Rajabpour (2020). Students' Perceptions OF M-Reader. TEFLIN Journal, 31(2), 277-301.
---
Abu Dhabi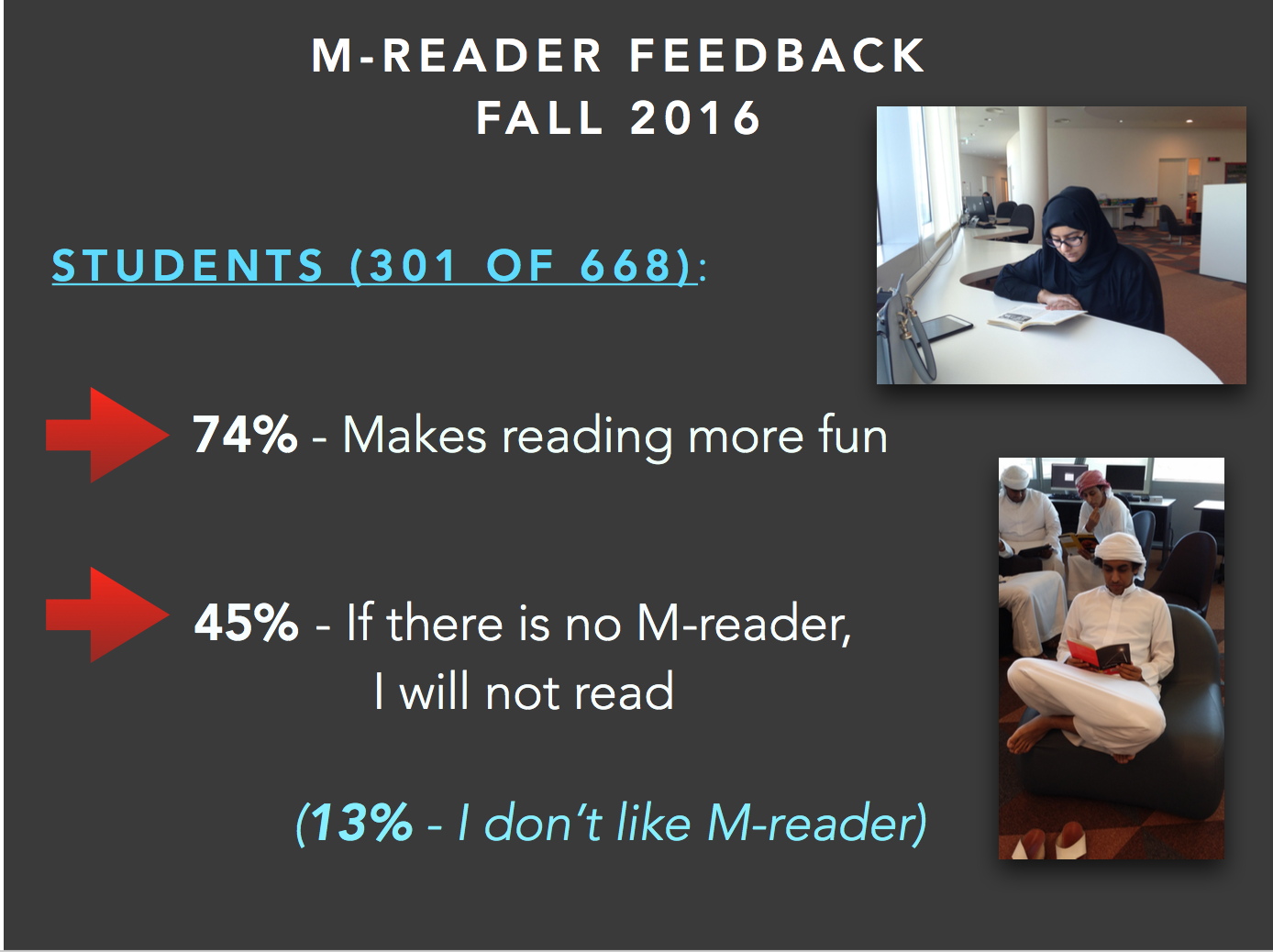 From Amanda Bradford's presentation at TESOL 2018
Zayed University, Abu Dhabi
---
Dubai

I just wanted to also say a huge thank you to you a) for 'inventing' MReader and b) for all the support over the years. The irony of the situation at ZU is that ever since we started using it, people have said that it's the best thing the program ever introduced, etc. etc. I still see MReader as a miracle worker with the potential for huge impact in this region in particular. We saw MReader turn nonreaders into readers in an unbelievably short time. All of us teachers experienced shiny-eyed girls saying things like 'I used to hate reading but now I love it! Do you know teacher, I see pictures when I read...' That kind of transformation just would never have happened without MReader. Aside from the obvious academic impact, I feel sad that we've taken away the chance to experience the joy of reading from the students - perhaps especially in this part of the world where young women often don't have a lot of opportunity to experience the world directly for themselves, but can do so through books and the imagination. [Written upon closure of their Foundation Programme]

Kate Tindle, Zayed University
---
Japan

MReader has entirely changed the outlook and the fear of reading English books that many of these kids have. In fact for some they enjoy it so much that they keep on reading after the class is finished and grades have been submitted, then reach word counts higher than you could ever imagine. I had one student, now in the 3rd year who I taught 2 years ago. She read 5 times what I asked her of in the 1st year with Mreader and has continued to do so since despite not actually having a class that uses Mreader. Her word count reached 1 million last month, astonishing.

Bruce Lander, Matsuyama University, Japan.
---

Almost two-thirds of all questionnaire respondents gave a score of 4 or 5 to the pleasure found in doing MReader quizzes. Overall, students appear to enjoy doing MReader quizzes. This may be slightly surprising, considering the fact that they are indeed quizzes, which add to the amount of "work" that must be done to complete a class assignment. But looking at the reasons why students like MReader, we can see that students see the benefit in being able, via the quiz, to review the material they have read. We can also see the motivation that passing a quiz gives to students. . . .
While MReader is not a perfect system, nor should one ever expect it to be, it is constantly improving, and allows both teachers and students an easy way to monitor progress in reading and language learning. Teachers should not hesitate to use this valuable resource as a supplement to their regular extensive reading activities.

Tony Curtis
From MReader Quizzes: Help or Hindrance?
---
Teachers like myself know how this system has been of great benefit for Japanese students of English. In my last school, I saw a first year Junior High school student go smoothly from level 2 to level 10 on M-Reader in a year. He was a particularly gifted young boy and the M-Reader library in that school was of considerable size, but it showed me how powerful the M-Reader system can be in producing meaningful improvements in a student's English.

Kieran Redmond, Kyoto
---
Stoeckel, Reagan & Hann (2012) examined assessment and attitudes and found that reading quizzes have no negative impact on reading attitudes. Curtis (2015) notes positive student attitudes to assessment: "Overall, students appear to enjoy doing M-Reader quizzes" (p.78). Cheetham, Harper, Elliott & Ito (2016) discuss usage of online software M-Reader in an 'M- Reader Challenge' and note passing quizzes as a positive motivational factor. Robb (2015) asserts a need to assess, noting various studies that note increased student engagement due to assessment.

Simon Bibby
From Extensive Reading and Effects on Reading, Writing and Vocabulary : A Literature Review



Korea

One interesting finding was that two participants in the ESL setting who had little motivation for reading in L1 and L2 and were resistant to reading at the beginning of the semester were able to find their interest in L2 reading after finishing graded readers. Incorporation of MReader pushed the unmotivated readers to read; as a result, they seemed to have discovered their interest in reading.


Namhee Suk (2018), from L2 Students' Perceptions of MReader for Extensive Reading
---
This site is hosted by the Extensive Reading Foundation.